---
Horizontal Flow Clean Bench
---
---
Horizontal flow clean bench is through the fan air into the pre-filter, through the static pressure box into the high-efficiency filter, the filtered air is sent out in a horizontal airflow state. Provide local dust-free, sterile working environment, so as to ensure the production of environmental cleanliness requirements.
---
Applications:
Horizontal flow clean bench is widely used in electronics, national defense precision instruments, instrumentation, biological pharmaceutical products, food, aseptic microbiological testing, plant tissue culture inoculation and other industries that require a local clean working environment of the scientific research and production departments. It is a kind of air purification equipment which provides local high clean environment with strong generality, and its use has good effect on improving process conditions, improving product quality and increasing the rate of finished products.
Features:
1 Cleanliness CLASS100 in accordance with ISO1466-1 international standard.
2 The airflow is horizontal flow shape, open table, easy to operate.
3. Adopting adjustable air volume and low noise fan system to ensure that the wind speed in the working area is always in the ideal state.
4. The box body steel plate electrostatic spraying bright and smooth, the operating table surface is 304 stainless steel.
Horizontal flow clean bench configuration: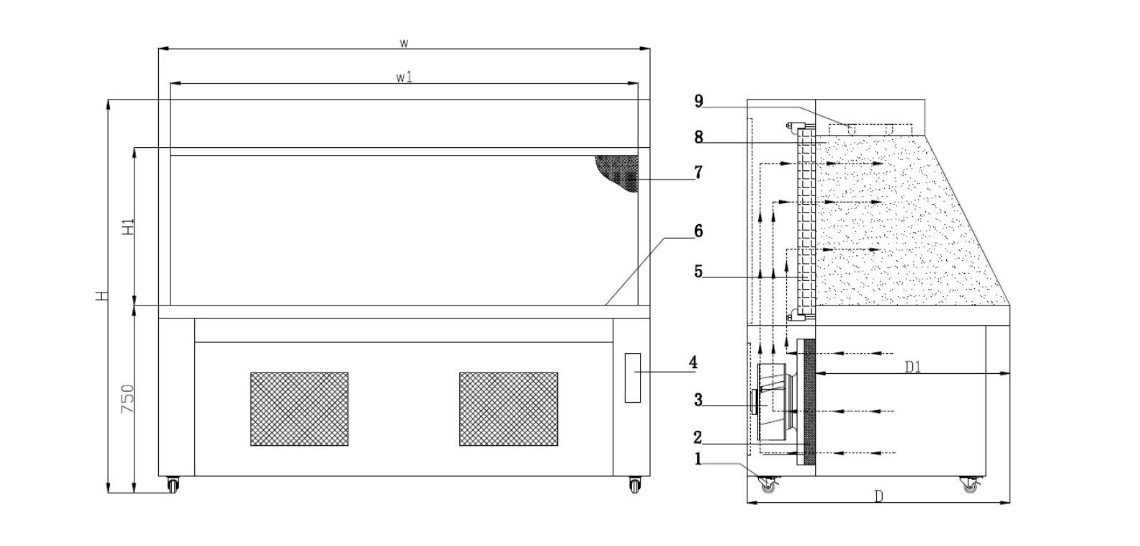 1.with brake casters 2 primary filter 3 centrifugal fan 4 control switch 5 high efficiency filter 6 stainless steel table 7 mesh diffuser 8 glass 9 fluorescent lamps electrostatic spraying bright and smooth, the operation of the table surface of 304 stainless steel
Technical parameters (common specifications)
model number

NM-1000

NM-1350

NM-1600

NM-1900

External Dimension(mm)

W1000xL740XH1460

W1350xL740XH1460

W1600xL740XH1460

W1915xL740XH1460

Size of working area (mm)

w980XL480XH610

W1285XL480XH610

W1580XL480XH610

W1880XL480XH610

Air volume (m/h)

900

1200 1500

1800

Wind speed (m/h)

0.45m/s±20%

Purification level

Class 100 (ISO 14644-1 international standard)

High Efficiency Filter Efficiency

99.99%@0.3um

HEPA Filter Size

915X610x69

1220X10x69

915x610x69 610X610x69

915X610x69

Number of high-efficiency filters

1-1
Worktop Material
304 sanded stainless steel
noises

<50dB

<50dB <50dB

<50dB

Noise test location
20cm from the front of the workbench, 1.2m above the ground.
Supply Voltage

220VAC 50Hz

Number of applicants

1

1-2

2-3

3-4
1. In case of changes in specifications and structure, the latest data provided by the Company shall prevail.
2. The company accepts orders for products with specifications other than those listed in the table.